The Line Between Pro Sports and Commercial Real Estate Blurs

This is the fifth installment in our series on stadium anchored mixed-use development, a concept that is blurring the lines between professional sports and commercial real estate in markets big and small across the US.
In Post 1 in our series, we studied the NFL's Chicago Bears' game plan to build a new stadium and sports anchored district on the former site of an iconic horseracing track, a saga that's taken some new and unexpected twists and turns as of late.
In Post 2, we filed an in-depth scouting report on the massive, $179 billion North American spectator sports industry, assessing sports teams' revenue streams and reviewing the factors that have fueled the ongoing stadium and arena construction and renovation boom.
In Post 3, we turned a triple play, flipping from a look at the modern history of sports stadiums and arenas in the US, to a look at the traditional sports stadium financing model to the reasons why pro sports teams began to change that model.
In Post 4, we tackled the MLB Atlanta Braves' plan to build a new baseball stadium and co-develop and own an adjacent mixed-use commercial real estate district, an ambitious project many point to as an inflection point in stadium anchored development.
This installment– Post 5—is a post-game recap of the Braves' stadium anchored project and how it caused other pro sports teams to pursue their own stadium-centric commercial real estate projects.
The Braves' New Stadium and Mixed-Use Real Estate Development Open
The Braves moved into their new, state of the art, 41,676 seat baseball stadium in Cobb County, GA in 2017. Originally christened SunTrust Park, after naming rights sponsor SunTrust Bank, its name was later changed to Truist Park after the bank merged and was re-branded as Truist Bank.
The surrounding mixed-use development, now named The Battery Atlanta, opened in phases. Phase 1, which like the stadium opened in 2017, included a 260-room Omni Hotel; three multifamily buildings; two office buildings, one measuring 295k square feet, the other 92k square feet; and 260k square feet of retail space that was almost fully leased when the development opened.
In April 2017, the Braves, in conjunction with concert promoter Live Nation, opened the Coca-Cola Roxy, a 53K square foot live music and events venue in The Battery. The Roxy has a standing room capacity of 4,000 and hosts about 40 shows per year.
Phase 2 of The Battery opened in 2021 and included a 142-room Aloft hotel and an office building that houses elevator manufacturer Thyssenkrupp's headquarters and 420-foot elevator test tower. As of July 2022, there was a total of 2.25 million square feet of developed space in The Battery with more phases and commercial space on deck, including a new nine story, 250k square foot office tower with a 42k square foot trading floor and 750-space parking deck expected to open in H2 2024.
The Team Reaps the Rewards from Their New Stadium and Commercial Real Estate District
The Braves organization still owns much of the commercial property in The Battery, including much of the office and retail space. The team maintains partial ownership of the two hotels through partnerships with Omni and Aloft. The apartment buildings have other owners now, including Atlanta-based Cortland, which in 2018 purchased a 531-unit building in the development for $156 million.
By all measures, SunTrust Park and The Battery Atlanta were both big hits. 2,505,252 fans flocked to Braves' home games during the 2017 season, a 28% YOY jump and the 8th highest in MLB, despite the team finishing the season in third place with a subpar 72-90 record.
Revenue-wise, Liberty Media reported that in Q3 2019, the Braves earned $212 million in baseball revenue, with $9 million or 4.2% of that coming from rents from The Battery— a revenue stream the team did not have previously. The Braves' total baseball revenue in Q3 2021, two years later, had grown to $222 million, $12 million of which—5.4%– was from rents at The Battery.
Cobb County and Local Taxpayers Also Reap the Rewards from the Stadium Anchored District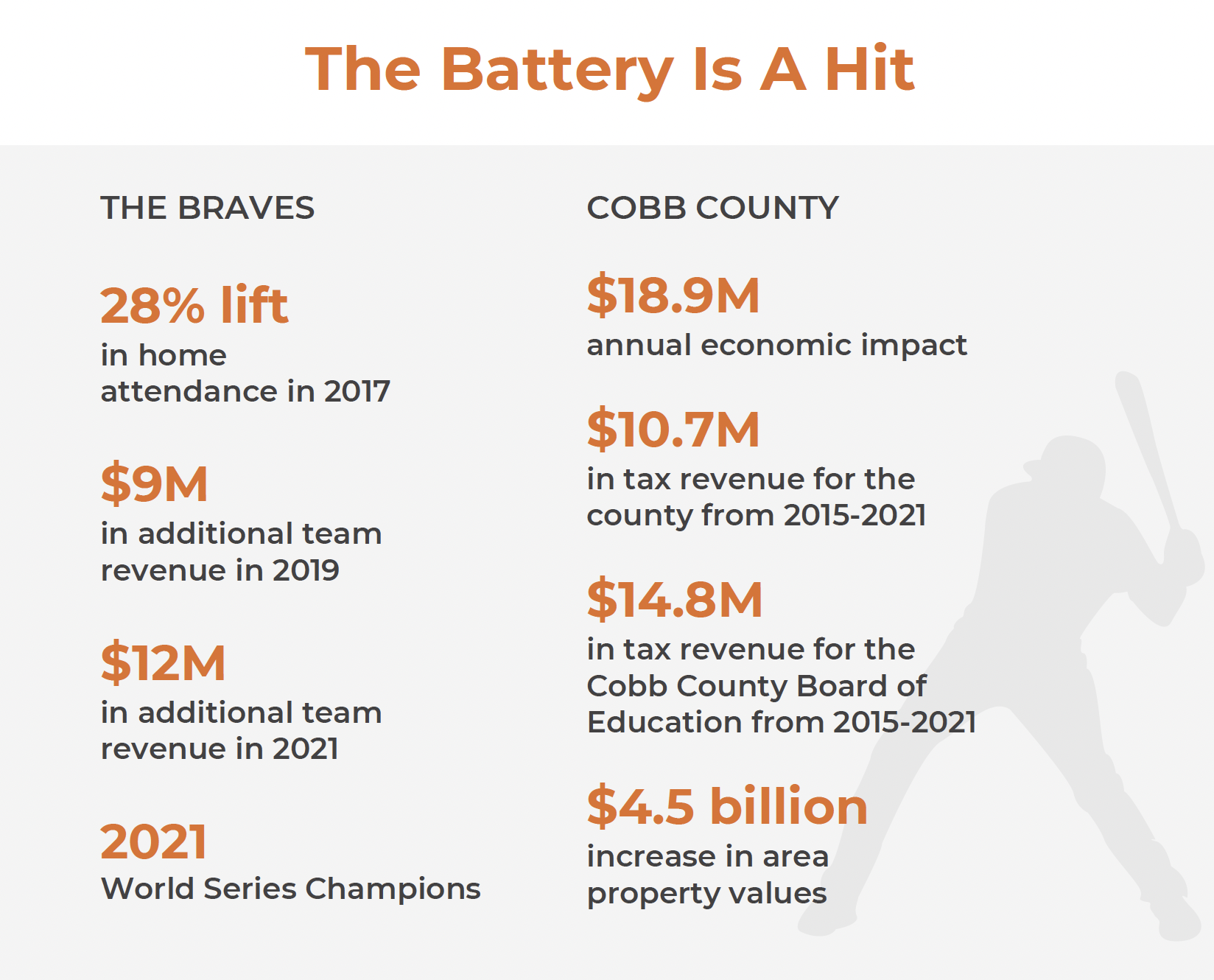 As for Cobb County, a report commissioned by the Cobb County Chamber of Commerce estimated that The Battery would have an average net economic impact of $18.9 million annually. Between 2015 and April 2021, the Braves paid a total of $10.7 million in taxes to the county plus an additional $14.8 million to the Cobb County Board of Education. In 2020, the total property value of The Battery, which stood on land that was previously undeveloped, was $587 million. Some have disputed the county's numbers, claiming they are inflated, but county officials have pushed back and stood by their figures.
The New Baseball Stadium and Mixed-Use District Have a Halo Effect
SunTrust Park and The Battery also had a halo effect on the surrounding area. Estimates are property values in the area have increased by $4.5 billion since the project was announced. In Q3 2021, Class A office asking rents in the submarket surpassed $30 per square foot for the first time. Area landlords hopped on the popularity and success of the stadium anchored district, rebranding their properties with baseball-themed names.
The Braves Win Their First World Series in 26 Years
Baseball fans benefitted too. In 2021, the Braves won the World Series for the first time since 1995, ending a 26-year championship drought. Team officials said that the additional revenue from The Battery improved the team's overall financial position, enabling them to sign difference-making players who were instrumental in the team's playoff push and World Series run. The team celebrated their World Series championship with a victory parade that ended– where else– at The Battery, the Braves' mixed-use commercial real estate district, which drew over 325,000 people during the three World Series games the Braves played at home.
Other Pro Sports Teams Jump into the Commercial Real Estate Game
Meanwhile, all those pro sports teams that had been watching to see if the Braves' aggressive and pioneering strategy of financing a new stadium and generating additional revenue by developing and owning commercial real estate around the stadium worked finally had their answer in the form of a new, state-of-the-art baseball stadium financed through a public-private partnership; a previously untapped source of revenue that boosted total team revenue by 4%- 5%; and—the icing on the cake– a World Series championship, which would help spur ticket and merchandise sales and increase fan interest in the team.
One after another, teams in all sports, at all levels and in all markets began following suit, hatching ambitious plans for their own new stadiums and stadium anchored mixed-use districts.
Next, The Growth of the Stadium Anchored Development Model in Pro Sports
In the next post in our series on stadium anchored mixed-use development, we'll look at the growth of stadium-centric development in professional sports and at some recent sports-based real estate projects.
Support For Your Sports Anchored Commercial Real Estate Projects
If you're involved in sports anchored development or plan to be, Realogic offers several services and solutions that can help you maximize the returns on your projects:
Our off-the-shelf Excel development models have been tested and refined over the course of 30+ years and thousands of successful and profitable commercial real estate projects and can be used to accurately model even the biggest and most complex mixed-use sports anchored projects.
Or, we can do the financial modeling for you. Realogic's skilled, experienced consulting team has modeled thousands of commercial real estate projects of all types and complexity over the past 30+ years, including ground-up development, mixed-use and stadium anchored properties. We work quickly and accurately and can work in your choice of modeling platform, including Argus Enterprise, rDCF or Excel.
---
About the Author
Terry Banike is Vice President of Marketing for Realogic. Over the course of his career, he has worked in marketing, communications, journalism and public relations, and has written news stories and features for newspapers, trade publications, newsletters and blogs. A rabid reader of anything and everything on commercial real estate, Terry closely follows commercial real estate news and trends and frequently posts about real estate on the Realogic Blog. He can be reached at tbanike@realogicinc.com.