How Pro Sports Teams Have Become Big Players In

Commercial Real Estate
Welcome to Part 2 in our series on stadium anchored mixed-use development. Stadium anchored commercial real estate has become a revenue home run for professional sports franchises at all levels and in all markets, and it's completely reshaping the game plan for entire communities, influencing how they are planned, designed, financed and built.
In Part 1, we kicked off our series on stadium anchored real estate with a look at the NFL's Chicago Bears and their lofty aspirations to build a gleaming new sports palace and mixed-used commercial real estate district on the former site of a storied horseracing track in suburban Chicago.
In this installment, we discuss the business side of professional sports, including how sports teams score their revenue, and look at the stadium building and renovation boom that began in the late 1990s and continues today.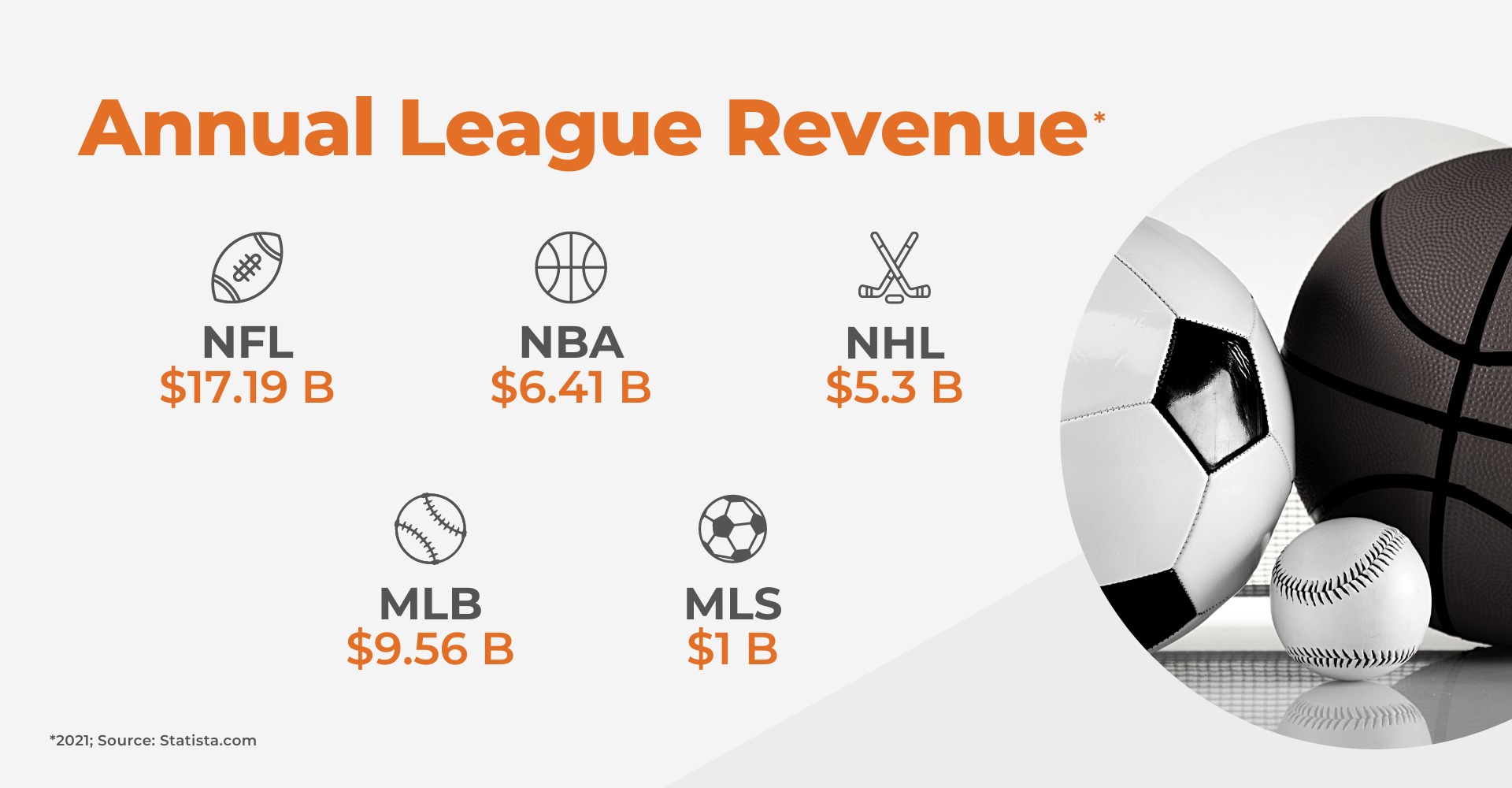 The Big, Big, Big Business of Professional Sports
Professional sports have become tightly interwoven into the fabric of modern society, not only here in the US, but across the globe. In countries large and small, rich and poor, sports have thoroughly captured humanity's collective imagination.
Sports entertain us. Thrill us. Inspire us. They lift our spirits—or sometimes crush them. Sports can bridge deep divides and bring together even the most diverse people, if only briefly, united in cause, be it a favorite sport, favorite team or favorite athlete.
But, for all sports mean to legions of passionate fans, the bottom line is the bottom line: spectator sports are a huge and growing business, not just in the US, but globally. To wit:
Worldwide, spectator sports generated $179.3 billion in sales in 2022, a 41% increase from the $127 billion generated in 20211.
In 2026, spectator sports are projected to generate $247.68 billion in sales globally, with sales growing at an 8.4% CAGR2.
By 2031, the value of the global spectator sports market is expected to reach an astronomical $597 billion3, more than the 2021 GDPs of New Zealand and Portugal combined4.
In North America, the sports market was valued at $71 billion in 2018. That number is projected to jump to $83 billion by 2023, nearly a 17% increase5.
Revenue By Sports League
In the US, revenue varies greatly by sports league. In 2021, among North America's five major professional sports leagues:
Most Valuable Sports Franchises
As league and team revenues have grown, the value of many professional sports franchises has skyrocketed, both in the US and abroad. The NFL's Dallas Cowboys, worth an estimated $8 billion in 2022, is currently the world's most valuable professional sports team11.
The NFL's New England Patriots, valued at $6.4 billion, is the world's second most valuable pro sports team. Another NFL team, the Los Angeles Rams, worth an estimated $6.2 billion, is the world's third most valuable sports franchise. Tied for fourth are MLB's New York Yankees and the NFL's New York Giants, both valued at around $6 billion12.
Most Valuable Sporting Event
The NFL's Super Bowl, valued at $780 million in 2019, is professional sports most valuable sporting event brand13. The big game, which drew an estimated worldwide audience of 112 million across broadcast platforms in 202214, generates big revenue for the NFL, including an estimated:
$1.8 billion in branded partnerships15
$66.5 million in ticket sales16
$545 million in in-game advertising17
Tens of millions of dollars in merchandise sales18
In addition, every year Fox, CBS and NBC collectively pay the NFL $3 billion to broadcast the NFL's games, including the Super Bowl, which the three networks take turns broadcasting on a rotating basis.19
In 2021, the league signed a new 11-year, $110 billion media rights deal with CBS, NBC, Fox, ESPN and Amazon that takes effect in 2023.20
Revenue Sources For Professional Sports Teams
So, if revenue makes pro sports teams so valuable, where exactly does their revenue come from? Traditionally, professional sports franchises have had four primary sources of revenue:
Media rights, which includes TV, radio and internet broadcasts, is professional sports' largest revenue stream, generating $20.14 billion for North American teams in 201821.
Gate receipts, which generated $19.2 billion in 2018, is sports' second largest revenue stream22.
Sponsorships, which generated $17.17 billion in revenue in 2018 and are projected to generate as much as $20.65 billion by 2023, are sports' third largest revenue producer23.
Merchandising, which includes team shirts, hats, jerseys and branded equipment, comes in at #4, with projected revenues of $15.4 billion in North America in 202324.

 The Connection Between Sports Stadiums and Gate Receipt Revenue
Like any successful, well-run business, professional sports franchises are constantly looking to maximize revenue– including gate receipt revenue, their second largest revenue stream– and for new sources of game day revenue, and that starts with their stadiums and arenas.
A team's home stadium has a direct and significant impact on game day receipts. The size, age, configuration, concessions, amenities, parking, location and surrounding area all shape the fan's gameday experience and the team's brand image.
Newer, bigger and more modern stadiums draw more fans and offer those fans an enhanced experience they can't get from watching the game at home on TV or streaming it on their device or watching it at their local sports bar, and that directly translates to more game day revenue for the team.
Stadium Luxury Suites and Premium Seating
Building a new stadium or renovating an existing one enables a team to add more luxury suites and premium seating options, which generally cost much more than general seating, generating additional revenue for the team.
Stadium Naming Rights and Sports Sponsorship Opportunities
Many companies that are looking to build their brands are eager to be associated with a gleaming new sports venue that's packed to the rafters with rabid fans every night– as well as with the winning franchise that plays there– opening the door to lucrative in-stadium sponsorship and advertising opportunities for the team, including multi-year, multi-million-dollar stadium and arena naming-rights deals.
Revenue Sharing Exemptions
Finally, all five of the major US sports leagues have revenue sharing agreements requiring their teams to share to varying degrees revenues from broadcasting rights, ticket sales and merchandising. However, stadium-generated revenue, including parking, concessions, souvenirs, luxury suite rentals, sponsorships and in-stadium advertising, is generally exempt25,26, 27. This gives teams yet another compelling financial incentive to want the biggest, best and most modern stadium possible: maximizing their non-sharable revenue, which goes straight into their own pockets and doesn't have to be shared with the league's other teams.
The Sports Stadium Building Boom
What it all boils down to is professional sports franchises are constantly on the lookout for new and bigger revenue streams and a new or upgraded stadium is a proven way to generate those. For that reason, teams in all sports, at all levels and in all markets have been aggressively pursuing new stadiums or arenas, leading to a stadium building boom that began in the late 1990s and continues unabated today.
According to Hunden Strategic Partners, a leading advisor in destination real estate development, since 1999, 95 new major league sports facilities have been constructed at a total estimated cost of roughly $50 billion28. This includes 20 new NHL stadiums, 19 NFL stadiums, 19 NBA stadiums, 17 MLB stadiums and 20 MLS stadiums29.
Stadium and Arena Renovations
In addition, many team owners are opting to renovate their current home venue versus building a new one. As of September 2022, the five major sports leagues combined had spent nearly $15 billion on stadium renovations over the past 20 years30.
The Growing Price Tag For New Sports Venues
While more new stadiums were opened in the 1990s than in any decade since- 4.9 per year, on average31— spending on new sports stadiums continues at a breakneck pace.
As of September 2022, approximately $1.8 billion of new stadiums and arenas for major league sports teams were under construction, after $3.2 billion in new venues were completed in 202132.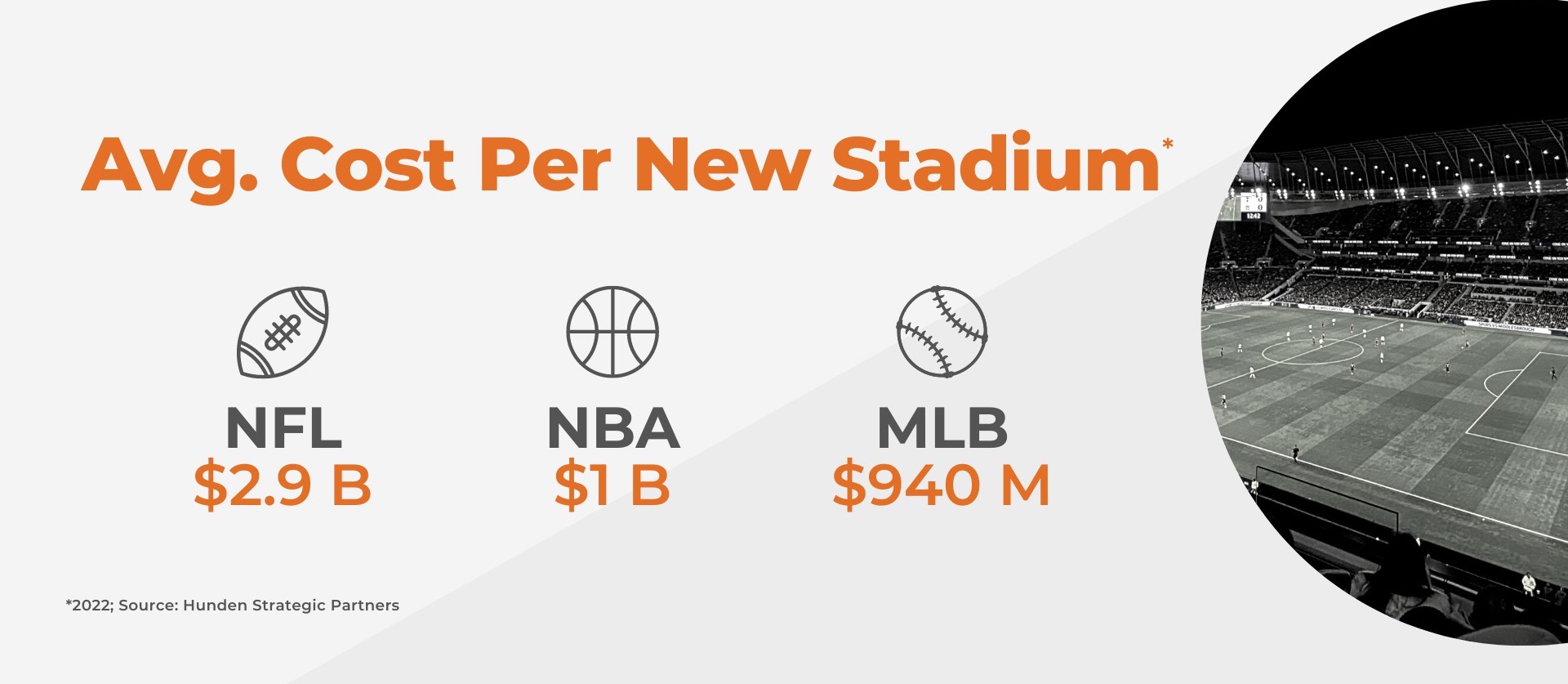 A big part of the reason so much is being spent on new stadium construction is the average cost of new stadiums has been steadily increasing. The average cost of a new NFL stadium is now up to around $2.9 billion, an NBA arena $1 billion and an MLB stadium a cool $940 million33.
Many of these new stadiums will include the latest and greatest revenue-generating features and amenities, including luxury suites, hi-tech video and LED boards, automated concessions and virtual and augmented reality adventures, with an emphasis on creating unique fan experiences available only to stadium-goers.
---
Next: The Old Sports Stadium Model vs The New Sports Stadium Model
In Part 3 in our series on Stadium Anchored Mixed-Use Development, we'll examine the old, traditional revenue model for sports stadiums and explain how and why that model has changed completely in recent years, an evolution driven partly by choice and partly by necessity.
Meanwhile, in case you weren't aware, Realogic offers several services and solutions for sports teams and real estate developers who are undertaking stadium-anchored projects:
Our off-the-shelf Excel development models have been tested and refined over the course of 30 years and thousands of successful and profitable commercial real estate projects and can be used to accurately model even the biggest and most complex mixed-use projects. Using Realogic's accurate, proven models instead of taking on the formidable task of building your own will save you time and money, eliminate the trial and error and give you greater confidence in your numbers.
Or, if you'd prefer, we can do the financial modeling for you. Realogic's skilled, experienced consulting team has modeled thousands of commercial real estate projects of all types and complexity over the past 30 years, including ground-up development and mixed-use properties. We work quickly and accurately and can work in your choice of modeling platforms. Another big benefit: our transparent financial models feature exposed formulas so you can see exactly how numbers were calculated and make modifications and adjustments as you see fit.
Finally, if your sports-anchored project is located in a Qualified Opportunity Zone, as many are, we have extensive experience working with QOZs and QOFs. We know how to deftly navigate the ins and outs of Opportunity Zones and offer a variety of expert services and solutions to help you maximize the return on your Opportunity Zone investments.
---
About The Author
Terry Banike is Vice President of Marketing for Realogic. Over the course of his career, he has worked in marketing, communications, journalism and public relations, and has written news stories and features for newspapers, trade publications, newsletters and blogs. A rabid reader of anything and everything on commercial real estate, Terry closely follows commercial real estate news and trends and frequently posts about real estate on the Realogic Blog. He can be reached at tbanike@realogicinc.com.
1, 2, 3- Thebusinessresearchcompany.com/report/spectator-sports-global-market-report
4- Bestdataanalytics.com; GDP ranking of countries in the world in 2021
5- Statista.com/statistics/214960/revenue-of-the-north-american-sports-market/
6- Statista.com/statistics/193457/total-league-revenue-of-the-nfl-since-2005/
7- Statista.com/statistics/193466/total-league-revenue-of-the-mlb-since-2005/
8- Runrepeat.com/nba-revenue-statistics
9- Theathletic.com; NHL revenues reach record highs thanks to jump in sponsorship, licensing deals; June 25, 2022
10- Worldfootballindex.com; How MLS Compares to the Premier League In Terms of Viewership & Income Generated; July 25, 2022
11,12- Forbes; The World's 50 Most Valuable Sports Teams 2022; September 8, 2022
13- Statista.com/statistics/253353/brand-value-of-sports-events-worldwide/ (2019)
14- Forbes; Super Bowl Advertising: The 2022 Edition; February 18, 2022
15, 16, 17, 18, 19, 20- thestreet.com/lifestyle/sports/super-bowl-revenue
21, 22, 23, 24- Statista.com/statistics/214960/revenue-of-the-north-american-sports-market/
25- Thehogstynetwork; NFL Revenue Sharing 101; January 23, 2020
26- Theathletic.com; NHL Financial Impact; How Much Money Does A Team Bring In Each Home Game?; March 13, 2020
27- Thesportsrush.com; How Do NBA Teams Make Money: A Complete NBA Revenue Breakdown; December 10, 2021
28, 29, 30, 31, 32, 33-Hunden Strategic Partners; State of the Industry: 2022; Coliseum Conference; September 2022