The Opportunity Zone program was launched by the Federal Government as a means of spurring investment in commercial real estate in economically disadvantaged areas of the country. Investing in real estate projects in Qualified Opportunity Zones, or QOZs, offers a variety of enticing tax benefits, including:
An immediate partial deferment of taxes on capital gains that are re-invested in Opportunity Zones
A complete waiver of taxes on capital invested through the Opportunity Zone program
Solid, stable long-term returns on investment
Bringing new, affordable housing and retail, office and industrial space to the underprivileged areas that need them the most
This powerful combination of significant economic and altruistic benefits has generated enormous interest in Opportunity Zones and Qualified Opportunity Zone Funds from commercial real estate developers, investors, owners and fund managers.
---
Our Experience
Realogic has been at the forefront of Opportunity Zone development and investment analysis since the QOZ program's inception. Since that time, we've been directly involved in a wide range of Opportunity Zone projects and worked with numerous Opportunity Zone leaders, including investors, developers and even policy makers. We've gained a tremendous amount of knowledge and hands-on experience with Opportunity Zones in just a short time.
But really, our relevant experience and project work go back much further. For over 30 years now, we've been laying the foundation to be an indispensable resource for anyone doing work with Opportunity Zones today. We've been building, sharpening and refining the right tools, like our Excel-based proforma development models; acquiring indispensable skills, knowledge and expertise in all aspects of commercial real estate development, investment and fund management; and we've been hiring and training the right people to provide the services, support and insights our clients from across the commercial real estate spectrum want and need. As a result, our tools, methods, processes and resources are all tested, proven and unmatched by anyone in the commercial real estate industry.
---
In short, however you're involved with Opportunity Zones- development, fund creation, fund management or asset management- the team at Realogic has the right skills, resources, experience and Opportunity Zone and commercial real estate expertise to help you achieve your objectives.
---
Our Platform
Realogic offers a range of essential solutions, services and insights to help commercial real estate developers, owners, funds and fund managers reduce their expenses and gain access to specific skills, tools and expertise to help maximize the returns on their Opportunity Zone projects. By design, our solutions, services and insights are intended to be used singularly or in combination, and we work with our clients to determine the optimal balance. As your fund or project progresses from conception to completion, we can add value throughout the Opportunity Zone cycle.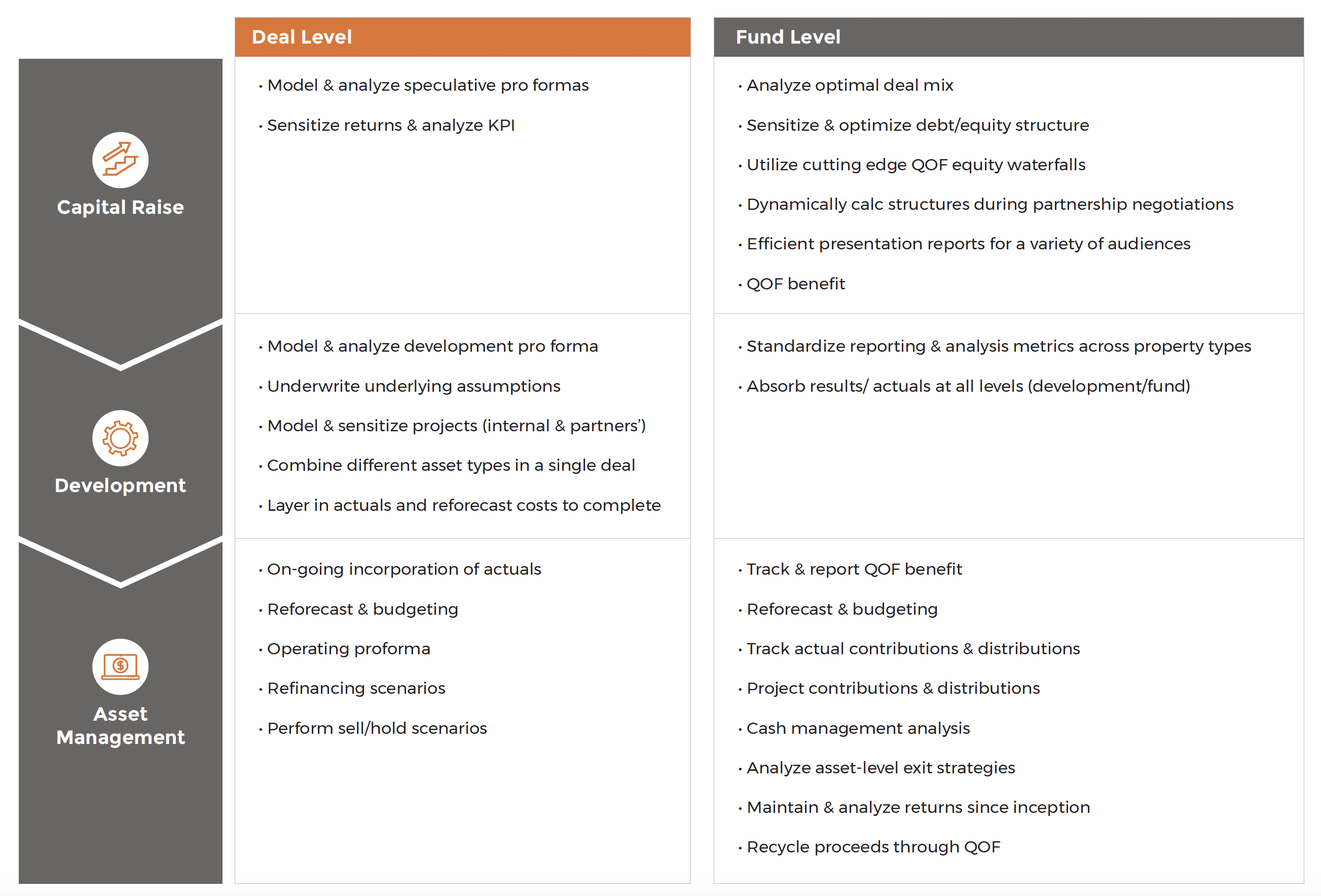 ---
Solutions
Excel-Based Models
Our proven, propriety development, asset management and fund-tracking models have grown and been tested since the inception of our firm over 30 years ago, and they've been used as the foundation for thousands of successful, profitable commercial real estate projects. We offer flexible models for a wide range of ground-up development, asset management and fund management projects, including:
Accurate and comprehensive, our models can be used individually or in combination for more complex projects involving mixed-use development or funds with varying focuses. Since our models are in Excel, the formulas are transparent so that you can see exactly how numbers are calculated. Plus, for anyone with even modest Excel skills, changing variables and sensitizing data is fast and easy.
---
Services
Staffing
Our experienced team of commercial real estate professionals can help with your Opportunity Zone projects however you need, whenever you need. We can assist with simple yet important tasks, like modeling your proposed and existing deals or auditing the results of your partners' projects for accuracy.We can supplement your own resources by providing a specific expertise that you may be missing or lacking scale, like advanced financial analysis or underwriting support. We can also do more advanced work, like converting, standardizing, and identifying and correcting errors in the models you receive from outside, making it much faster and easier to review, analyze and consider development or investment proposals and decisions. Working with Realogic also helps you minimize costs by allowing you to outsource rather than add full-time staff or purchase technology or other critical resources.
---
Insights
OZ Platform Perspective
Combine it all – our proven models; our skilled, experienced people; our established systems and processes; our commercial real estate and Opportunity Zone expertise – and you have the Realogic OZ platform, an invaluable resource for anyone looking for more holistic help with their Opportunity Zone program. You can leverage any or all of our resources to plan, architect, build and manage any modeling aspect of your Opportunity Zone program.
Realogic gives you peace of mind and allows you to focus on what you do best. Since our OZ platform is flexible and scalable, the combination of services we provide can evolve as your project or fund grows and evolves, ensuring you have the long-term support you need to sustain your success.