Today's post is the second in our series on commercial real estate lease administration best practices. In our last post, we covered best practices for subleasing, an especially timely topic, given the near record amount of office sublease space currently on the market.
In today's post, we're going to share some best practices and insights on administering encumbered space. We chose this topic because encumbered space has increasingly come up in our discussions with the property owners, managers, accountants and attorneys we work with, and is an area of concern for everyone involved in the process of leasing and managing commercial real estate portfolios.
Right of First Refusal vs Right of First Offer
As you're likely aware, encumbrances are a right or claim to space in a commercial property. The two most common types of encumbrances are Right of First Offer (ROFO) and Right of First Refusal (ROFR), although they can have a variety of other names, such as "Right of First Opportunity" or "Right of Second Offer", for example. While somewhat similar and often confused for one another, there are very important differences between the two.
A ROFR option gives a tenant the right to match an offer the landlord has received for the space and take the space itself, or to decline to match the offer and let the landlord lease the space to the tenant that made the initial offer.
A ROFO option, on the other hand, gives the tenant the initial right to a space– subject to any other tenants who may have prior rights– before the landlord offers it to other prospective tenants.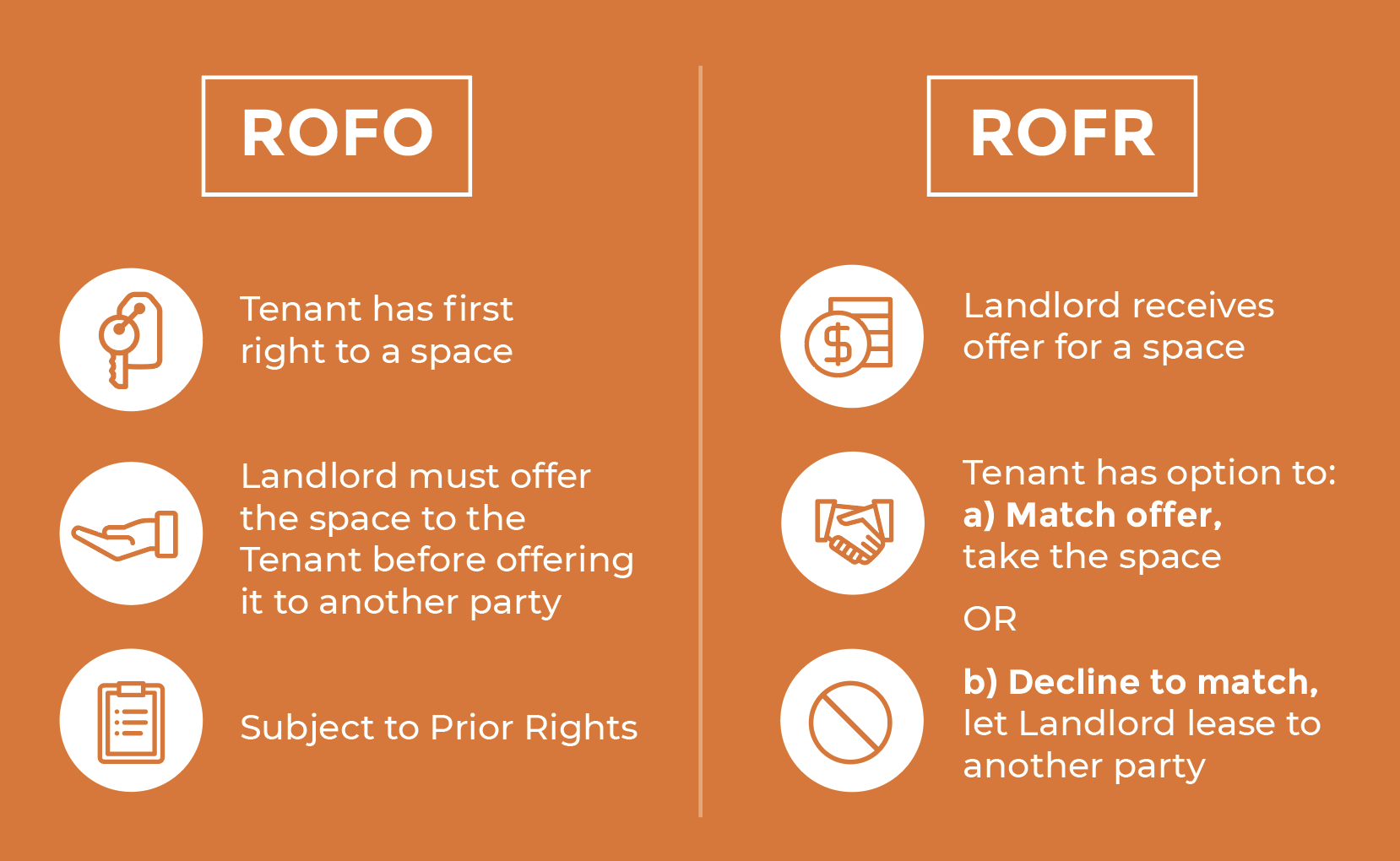 The Benefits of ROFO/ROFRs
Tenants benefit from a ROFO/ROFR because they can lease additional or other space in the building before the space is leased to someone else.
Landlords benefit in that ROFO/ROFR options automatically provide them with prospective tenants for space that may become vacant.
When Encumbrances Aren't Administered Carefully
If not administered carefully, ROFO/ROFR options can haunt landlords several ways.
First, a landlord can inadvertently lease encumbered space to a new tenant without first allowing the existing tenant or the tenant who has the option to exercise it. The landlord then must rectify the situation, which can be costly and time-consuming, especially if the landlord has to offer concessions to either party to appease them, or worse, if legal action is sought.
The second consequence of not administering encumbrances carefully is that the landlord may hold off on leasing space they mistakenly believe is encumbered but is not, thus, allowing the space to sit vacant, resulting in lost revenue. 
Best Practices for Administering Encumbered Space
So, what are some best practices we can suggest for managing encumbered space in commercial real estate properties?
When abstracting leases, be sure to note any encumbrances, including ROFO/ROFO options. Enter the critical dates and important details into your lease administration/accounting system so you can track the encumbrances and critical dates closely and avoid missing opportunities to lease space and generate revenue, and so you don't inadvertently lease encumbered space without first checking with the tenant with rights to the space.
Before leasing any space, make absolutely sure that it is not encumbered. Check the lease abstract for potential encumbrances and the lease file for any previous ROFO/ROFR offers. It is always recommended to check the lease itself for the full description of the rights, then defer to the language in the lease. Determine if any existing ROFO/ROFR may be expired based on prior offers and timing.
If a space is encumbered, regardless of whether the encumberment is a ROFO or ROFR, follow the process for executing the right as provided in the Lease. Send all required notices to all parties within the correct time frames, as specified in the lease. State that if the party does not respond within their time frame, it is assumed they have rejected the offer. This allows you to move on without waiting for a response.
Remember that leases, including ROFO/ROFR options, are binding agreements between the tenant and the building. So, if building is sold and new owners and/or management take over, the current leases, including tenant rights and encumbrances, carry over and remain in effect.
As with all tenant documents and communications, save copies of all ROFO/ROFR letters and notices and make certain they are sent to the lease file– not just correspondence– so the file contains all the information required to determine the current status of any options, including offer letters that may have been provided to tenants.
If the tenant rejects the Offer, or doesn't respond to your ROFO/ROFR notices, check the lease to determine if the ROFO/ROFR is still in effect. Will it expire completely, or just for the offered space? Does the right come back after a certain period?  Will you need to re-offer the space if you offer it at a lesser rate to another party?   There are many potential variances depending on the language provided in the Lease, so check these items carefully.
If the encumbrance has expired, then there's no need to send additional notices. As long as you've done what was required in the lease, you can then lease the space to another tenant.
Superior Rights vs Subordinate Rights
Finally, when it comes to encumbered space, there are actually two types of rights a tenant could have, superior rights or subordinate rights. Both give tenants certain rights and claims to space, but superior rights supersede subordinate rights.
Through our work, we're finding that commercial real estate landlords are paying closer attention to superior and subordinate rights and adding more detailed language to their leases that clarifies which tenants have which rights and exactly what those rights entail.
So, when determining whether a space is encumbered, it's also important to determine if more than one tenant has an option on the space and, if so, who has superior rights and who has subordinate rights and what those rights mean.   Often, this is based on the date that the option is awarded to the tenant, so you will need to confirm exactly which document contained the offer, and when the offer was granted.
Always Defer to the Lease
As with any option or encumbrance, when working with superior and subordinate rights, always defer to the language in the lease for guidance. An abstract is a summary of a right, but for these type of details, the lease is the final word.
Then, when it comes time to lease an encumbered space where superior and subordinate rights are involved, follow the process laid out in the lease. Send all required notices and communications to all required parties. Save copies of all documents in your lease files to confirm that you offered the space, should this ever come into question.
Next: Letters of Credit and Storage Revenue
That's our look at encumbered space. We hope the information, insights and best practices we've shared were helpful. Next in our series on lease administration best practices, we'll cover letters of credit and storage, two often overlooked subjects that can have a surprising impact on a building's profits.
Additional Information on Commercial Real Estate Leases
If you're looking for additional information on commercial real estate leases or lease administration, there are several resources in our Library you might be interested in, including:
In addition, Realogic offers several training classes on commercial real estate leases, including Understanding Commercial Real Estate Leases and Lease Abstraction.
By Kathy Fera, Director, Realogic
Kathy Fera has over 30 years of experience in commercial real estate. She is currently a Director at Realogic, where she oversees lease administration for approximately 130 million square feet of office, retail and industrial space for Realogic's clients. She has previously worked as a property manager and as a consultant to several of the industry's largest property owners and service providers. You can reach Kathy at kfera@realogicinc.com.