As anyone who owns, manages or invests in commercial real estate property knows, lease administration can have a substantial impact on the profitability of a commercial real estate building. Managed carefully and professionally, lease administration can increase the amount of revenue generated by a building while reducing operational expenses. Approached too casually, the result can be the complete opposite: lost revenue opportunities, increased expenses and precious time wasted rectifying easily avoidable mistakes.
If you work in lease administration or have even dabbled in it, you also know that lease administration is a broad term for a complex and inter-related set of activities tied to managing tenant leases, and that each separate component of lease administration is learned and perfected over time, through hands-on experience and practice.
The members of Realogic's lease administration team are experts in the entire process of lease administration. Many of our team members have worked in commercial real estate for several decades, including me. We've administered leases for all types, sizes and classes of buildings and currently administer leases for over 130,000,000 square feet of commercial space. Some of us have worked as property or asset managers. All of us are expert in our craft.
As a result, we've developed a well-earned reputation as an authority on commercial real estate lease administration. We've learned what makes the difference between excellent and merely passable lease administration– the knowledge, insights, techniques and proven best practices that can make the difference between a commercial building running smoothly and efficiently and meeting or even exceeding its profit and revenue goals, or consistently struggling and falling short.
We share our lease administration experience and expertise with Realogic's clients through the work we do, and now we're going to share that knowledge and experience with everyone who has an interest in commercial real estate through a series of blog posts on lease administration best practices. The purpose of the series is to help commercial property owners and managers and anyone who supports them understand lease administration better, and to provide them with information and best practices to help them administer their leases more efficiently, productively and profitably.
Subleasing: Timely and Relevant
The first topic we're going to cover in the series on lease administration best practices is subleasing, a particularly timely and relevant subject to anyone who owns, manages, supports or invests in office buildings. Traditionally, office properties have been considered one of the safest and most stable commercial real estate sectors, and for that reason have been a favorite of institutional investors. But the office sector has been completely upended by the Covid-19 pandemic.
Between corporate layoffs, financial disruptions, social distancing requirements and remote and hybrid work, companies are re-thinking their office space needs and considering how to best utilize their office space going forward. As a result, many office users have been "right-sizing" their offices, or adjusting the amount of space they use. This in turn has led to an enormous and rapid increase in the amount of office space available for sublease in the US since the onset of the pandemic in March 2020.
The Current Sublease Market
After peaking at 132 million square feet in Q2 2021, US office sublease inventory has been steadily falling. As of Q4 2021, 124 million square feet of sublease space remained available, a 6.1% drop from Q2 2021 and a 4.6% drop from Q3. In the six US gateway cities, including Boston, Chicago and San Francisco, collective office sublease space dropped 9.9% from Q3 2021 to Q4 2021.1
Still, US office sublease inventory remains very high. The 124 million square feet of sublease space available in Q4 was 39% higher than the inventory at the height of the Great Financial Crisis in Q4 2009, and was the equivalent of 2.2% of the 5.6 billion square feet of total office inventory in Q4 2021; during the height of the Great Financial Crisis, sublease space represented just 1.8% of total US office inventory.2 There's a handy infographic in our Library that summarizes the current US office sublease market.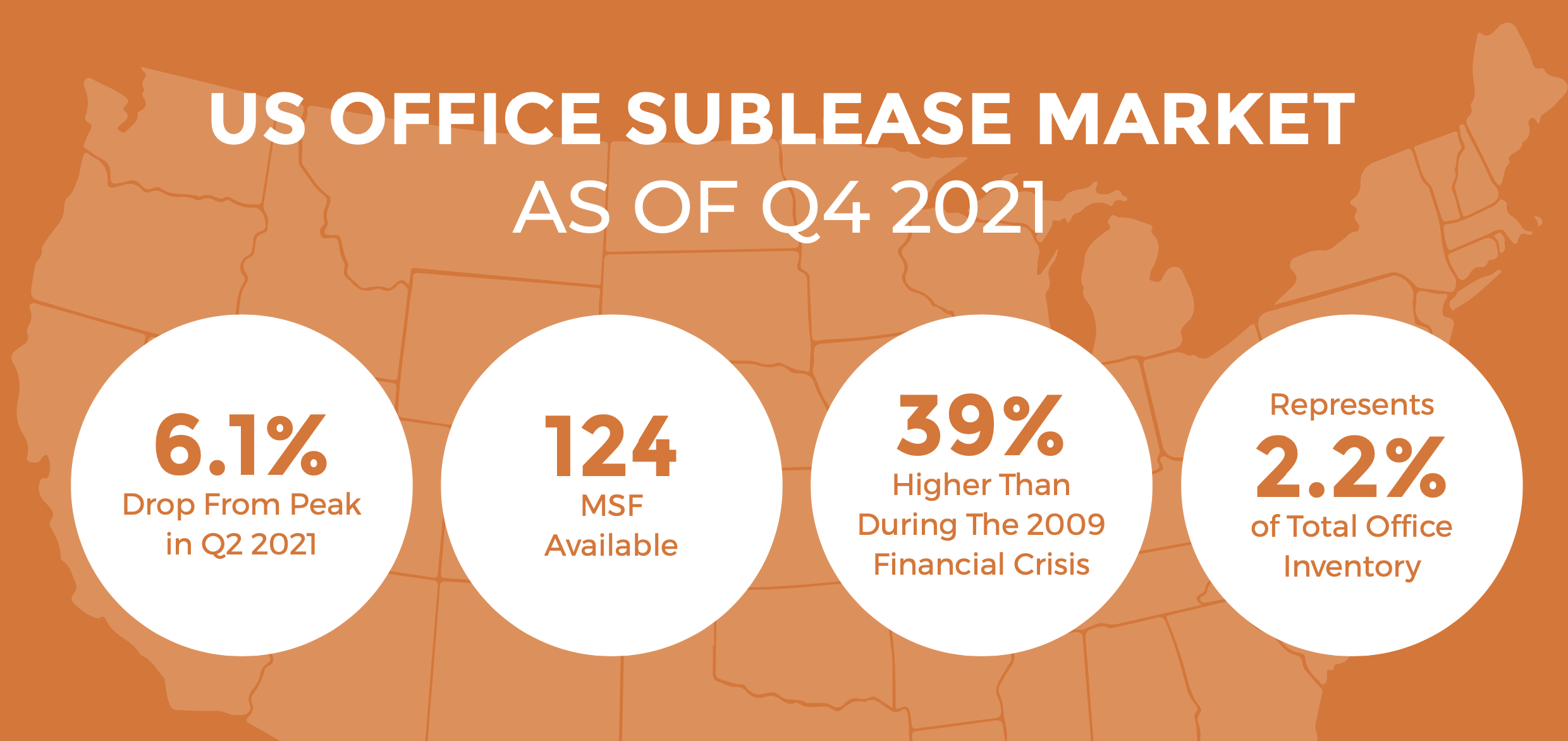 Even with sublease inventory declining, it will likely take years for all that space to be fully absorbed, especially with new office product still in the pipeline. Consequently, an above average amount of space available for sublease will probably remain a fact of life for the office sector for the foreseeable future.
Review The Sublease Section of Your Lease
Our first subleasing best practice to share is the most important: conduct a thorough review of the sublease clause in your tenant's lease with an experienced and reputable commercial real estate attorney. This is critical because when it comes to subleasing, your sublease clause is the final word.
If a critical protection is missing from your sublease clause, or your lease doesn't give you complete authority over subleasing, or the subclauses are poorly written or ambiguous, it could cause you some very big and very expensive headaches at some point.
It's ultimately up to you and your attorney to decide what to attempt to include in the sublease clause while negotiating a tenant's lease. But, based upon our extensive experience reading, abstracting and administering leases, we've found that the most thorough and protective clauses include the following:
Landlord Consent
An ironclad Landlord Consent clause that stipulates that the landlord must formally consent to any sublease agreement for the agreement to become valid. This gives the landlord final authority to approve or reject any proposed sublease agreement. It also helps ensure that any tenant who wants to sublease asks permission from the landlord and that the landlord knows all the details about the proposed sublease. 
Recapture Rights
A Recapture clause that gives the landlord the right to repossess the space from the tenant rather than agree to a sublease. A landlord might want to repossess the space for a variety of reasons, including future leasing opportunities or if the subtenant is not credit worthy. Recapture clauses are included in most leases to give the landlord an extra degree of control over the space in their building.
A note about Landlord Consent and Recapture rights: Many leases stipulate that Landlord Consent is implied if the landlord doesn't respond to the tenant's sublease proposal within a specified timeframe. Likewise, many leases stipulate that the landlord loses its recapture rights if it doesn't respond to the tenant's proposal within a certain timeframe.
For that reason, it's imperative to know if your lease has those provisions and the respective timeframes for responding. Then, it's critical to respond to the tenant's sublease proposal within the allotted timeframes so you don't lose your consent or recapture rights, which are your best protections against inappropriate subleases and subtenants.
Subtenant Due Diligence
A clause formalizing your right to conduct due diligence on any prospective subtenants and specifying what this entails, which might include reviewing the organization's recent financial statements, checking its credit report and conducting background checks on its principals or officers. You may want to include language giving you the right to reject a subtenant because you feel they don't fit with the building's character.
Sublease Profits
A provision entitling you to a share of any sublease profits. Besides the Landlord Consent and Recapture clauses, this is probably the most important provision to have in the sublease section of your lease because it has the potential to increase your revenue. In our experience, the landlord's share of profits typically ranges from 50%-100% and can vary by tenant, space, building or market.
Leasing Additional Space and Services
Additional space, services and amenities in the building are profit centers, so you might want to consider including a clause in your lease allowing you to directly solicit subtenants to take advantage of the following:
Parking
Data center usage
Storage
External signage
Rooftop space
Conference rooms
Fitness centers
Sublease Documentation
While revenue and profits are important, so is good documentation. When reviewing your lease, it's smart to confirm there's a clause requiring tenants to provide copies of all documents related to the sublease to the landlord within a specific timeframe. This includes:
Sublease agreements
Sublease amendments
Landlord consents
Explanation of landlord's denial of sublease
Floor plans for any TI work
Notice of termination from subtenant to tenant
Sublease extensions
Move in notices
Chattel mortgages
Vacancy notices
You should abstract any documents that have critical dates or other actionable information. Enter the information into your lease administration/accounting system so it can be tracked, reviewed and managed accordingly, and so that you can pull detailed reports to give your accounting and operations teams insight into your properties and help them make smarter, more informed business decisions.
Non-Solicitation of Subtenants
Should a tenant who is subleasing space to a subtenant default on their lease or vacate the balance of their space for any reason, as landlord, you should have the right to work directly with the subtenant. When reviewing your sublease clauses, it's important to make certain this right is intact, so you can intervene, collect rent directly and then work with the subtenant to remain in the building.
Transfer of Tenant Rights to Subtenants
The Landlord consent will confirm if any rights of Tenant will be transferred to the subtenant, such as renewal or ROFO/ROFRs. It is important to make certain this is properly addressed so the subtenant does not receive any rights unless approved by landlord.
Subleasing Expenses
Expense Reimbursement: Oftentimes, a landlord will incur expenses when a tenant subleases, so your sublease clause should state in detail what expenses the tenant has to reimburse you for in order to avoid future disputes over subleasing expenses.
Sub-Subleasing
Finally, Sub-Subleasing: Whether you're going to allow subtenants to sublease or not, it's a good idea to say so in your lease so there's no confusion on anyone's part. Generally, it makes sense to allow it, for the same reasons subleasing makes sense. But then, just like with subleasing, it's smart to lay out all the rules, rights and obligations so you have full control over the process.
Subleasing Clause Checklist
For your convenience, we created a handy checklist of essential sublease clauses to include in your lease that you can download from the Realogic Library.
Watch For Signs of Unapproved Subleasing
While most leases require the tenant to inform the landlord when they intend to sublease, and to get formal approval from the Landlord, this doesn't always happen, for a variety of reasons.
In fact, over the years, we've seen many cases where a tenant was subleasing space and the Landlord had no idea. For that reason, you should continually remind the building's staff to watch for any activity that hasn't been approved by the landlord that might indicate an unauthorized sublease. This includes furniture or office equipment being moved into the building unexpectedly, a sudden and sustained increase in foot traffic on a certain floor or elevators, common areas and amenities being more crowded than usual. Staff should alert you immediately if they see any signs of an unauthorized sublease.
Establish Lines of Communication Between Building Staff
In our experience, it's also important to establish formal lines of communication between property managers, property accountants, attorneys representing the property owner and the building's staff. This will help avoid lapses in communication and help prevent anything important slipping through the cracks. It will also help ensure the entire team is aware anytime a tenant has approval to sublease and knows the important details of the sublease agreement, and is prepared when a new subtenant moves into the building.
Subtenant Contact Information
Check to make sure that you have the correct legal and DBA names for all of the subtenants in your building, along with the names and titles of the primary contacts and their contact information, since it's inevitable that you will need to contact them at some point.
Track and Collect Your Sublease Profits
You'd be surprised at how often landlords forget to collect their profits from subleased space.  If you're entitled to collect a profit on a subleased space, enter all the details into your property accounting software. Then, track the payments as you would track any rent or revenue stream to make sure you are paid what is owed.
One Last Subleasing Best Practice
There's a simple, easy, no-cost way to help any tenant that wants to sublease: help them get the word out. Give some thought to what other tenants in the building might be interested in the sublease space. Let them know it's available and, if anyone is interested, have them contact the tenant who is subleasing. All parties will benefit. And, as anyone who has ever managed a building knows, happy, appreciative tenants renew their leases, expand their spaces and recommend the building to prospective new tenants.
By Kathy Fera, Director, Realogic
Kathy Fera has over 30 years of experience in commercial real estate. She is currently a Director at Realogic, where she oversees lease administration for approximately 130 million square feet of office, retail and industrial space for Realogic's clients. She has previously worked as a property manager and as a consultant to several of the industry's largest property owners and service providers. You can reach Kathy at kfera@realogicinc.com.
1,2- Cushman & Wakefield; At A Glance: Office Sublease Space; North America | Q4 2021; February 2022