Office to Apartment Conversions
This is the second post in our series on multifamily conversions, a commercial real estate practice that's been growing steadily for decades and is expected to accelerate as more and more office buildings struggle with high vacancies and decreased demand due to a widespread, post-pandemic shift to remote and hybrid work.
In our first post, we looked at how the Covid-19 pandemic and on-going US housing shortage ignited the multifamily conversion trend, the history of multifamily conversions and the plusses and minuses of apartment conversions.
In this post, we take an in-depth look at office to apartment conversions. From 2011-2022, former office buildings were converted into 44,209 apartments, the most of any type of property.
Office Buildings' Highly Desirable Location
The main reason office buildings have emerged as the most popular type of multifamily conversion is their highly desirable location. Many converted office buildings are located within a city's central business district, enabling tenants to live close to where they work while giving them quick, easy access to public transportation, restaurants and entertainment and the city's cultural attractions.
Traditionally, there's been a dearth of housing in city centers because most of the buildings located in cities' downtowns are office buildings. Office buildings' prime central location, coupled with a lack of apartment inventory, drives up demand and rents for converted apartments, which in turn drives up profits and investors' returns.
The Right Size and Layout For Conversion To Apartments
Office buildings' layout and size often make them prime candidates for conversion, especially pre-World War II office buildings with their smaller floor plates, high ceilings, abundant windows and smaller inner cores. Commercial real estate firm Avison Young estimated that in Q2 2023, roughly one in three office buildings in the 10 largest US cities– approximately 6,206 buildings total– was well-suited for conversion to apartments, based upon it being built before 1990 and with floor plates smaller than 15,000 square feet.
---
Sizing Up An Office Building For Multifamily Conversion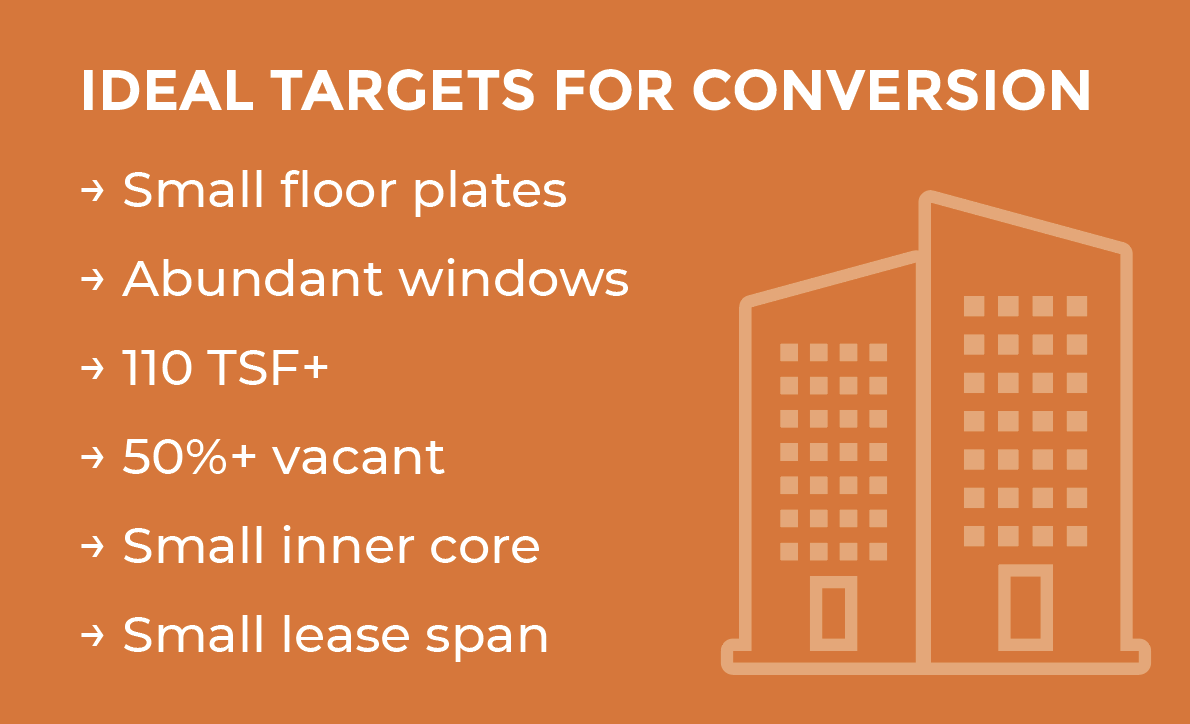 When it comes to multifamily conversions, however, not all office buildings were created equal. Some offices lend themselves well to conversion, others do not. Some of the deciding factors are:
Size and shape of the floor plates: on average, floor plates in multifamily buildings run 65-70 feet deep19, while the average floor plate of older office buildings measures 120 feet deep20. If a building's floor plate is too deep, the apartments created will be awkwardly sized or shaped and won't have many windows or natural light. Which brings us to the second deciding factor…
Proximity to natural lighting: there's an unwritten but closely adhered to rule that any space in an apartment should be no more than 30 feet from a window21. So, if a building doesn't have many outside windows, or the size and shape of its floor plates would make it difficult or impossible to create apartments with ample natural lighting, it's probably not a good candidate for conversion. One option is to create a light well down the building's center, but that's expensive and in many cases may not be structurally feasible.
Size and shape of the inner core: most office buildings have an inner core, usually down the center, for mechanicals, like elevators, electrical and plumbing. If the core is too expansive, or the corridors that would be created around the core would be too big, there will be a lot of wasted space in the building and/or the size and layouts of the apartments will be awkward.
Landmark status: some older office buildings have been granted landmark status, in which case there are strict rules about how the building can and can't be changed that can have a major impact on design, construction, costs and upkeep. At the same time, the idea of living in a historically significant building with original features and fixtures can be very appealing to tenants, so apartments in landmark buildings are often in high demand and command higher rents.
Age and condition of the building: It's not uncommon for older office buildings to have hidden problems, like mold, asbestos, lead paint and damaged concrete, or structural problems. All can drive up the cost of and amount of time needed for the conversion, which is why a thorough physical inspection of the building before committing to a conversion is a must.
---
The Right Market Conditions For Converting Office Buildings to Apartments
In most office to multifamily conversions, older B and C class office buildings are converted to Class A apartments. In order for the project to make sense from a financial standpoint, several conditions must exist:
Obviously, the cost of acquiring and converting the building should be less than the cost of new ground-up construction. When calculating the cost of new construction, the cost of demolishing the building and clearing the site should be considered.
The current vacancy rate for Class A multifamily apartments in the market should be lower than the current vacancy rate for Class B and C office space, indicating higher demand for apartments than for Class B and C office space.
Net absorption trends for the two sectors. Net absorption for Class A apartments should be projected to remain higher than for Class B and C office space. If net absorption of office space is projected to outpace net absorption for apartments, a conversion probably does not make long-term financial sense.
Current asking rents for Class A apartments in the market must be higher than asking rents for Class B and C office space. If office rents are below or equal to apartment rents, there's little or no financial incentive to convert.
Class A multifamily rents should be projected to grow, while Class B and C office rents are projected to shrink or remain stagnant. If office rents are expected to outpace multifamily rents in the long-term, again, there's little financial benefit to the conversion.
Prevailing cap rates for the two sectors. The average cap rate for multifamily properties in the market should be lower than the average cap rate for office buildings, indicating there's greater demand for and less risk with a multifamily building.
The Pandemic's Impact on Office Demand
In the early days of the pandemic, office buildings and entire cities were shutting down, leading to a huge increase in the number of people working remotely or on a hybrid work schedule. The National Association of Realtors (NAR) estimates that after many US cities went on lockdown in March of 2020, nearly 50 million US office workers were working remotely23.
Many companies found that employees' productivity did not drop when they worked outside the office, so they started reassessing the amount of office space they needed and how that space would be utilized, with an eye on downsizing to save money on rent.
Class B and C Office Buildings Hit Especially Hard
Class B and C office buildings, which tend to be older and more obsolete, have been hit especially hard by the post-pandemic growth in remote and hybrid work, as companies have sought to move to newer and nicer buildings to entice employees back to the office and to help recruit and retain talent.
According to GlobeSt., in Q4 2022, the vacancy rate for Class B and C office buildings in New York City stood at 12.2% vs 10.4% for Class A properties– over 2% higher.
Remote and Hybrid Work Are Here to Stay
While the Covid-19 pandemic is mostly behind us, many cities and employers are making concerted efforts to coax employees back to the office. Even so, it appears that remote and hybrid work are here to stay, at least for the foreseeable future.
According to Forbes, as of Q2 2023:
12.7% of full-time employees were working from home
28.2% were working on a hybrid schedule
59.1% were working in-office full-time
16% of US companies were operating fully remote
98% of workers said they want to work remotely at least some of the time
By 2025, an estimated 32.6 million Americans will work remotely full-time
A Return to City Living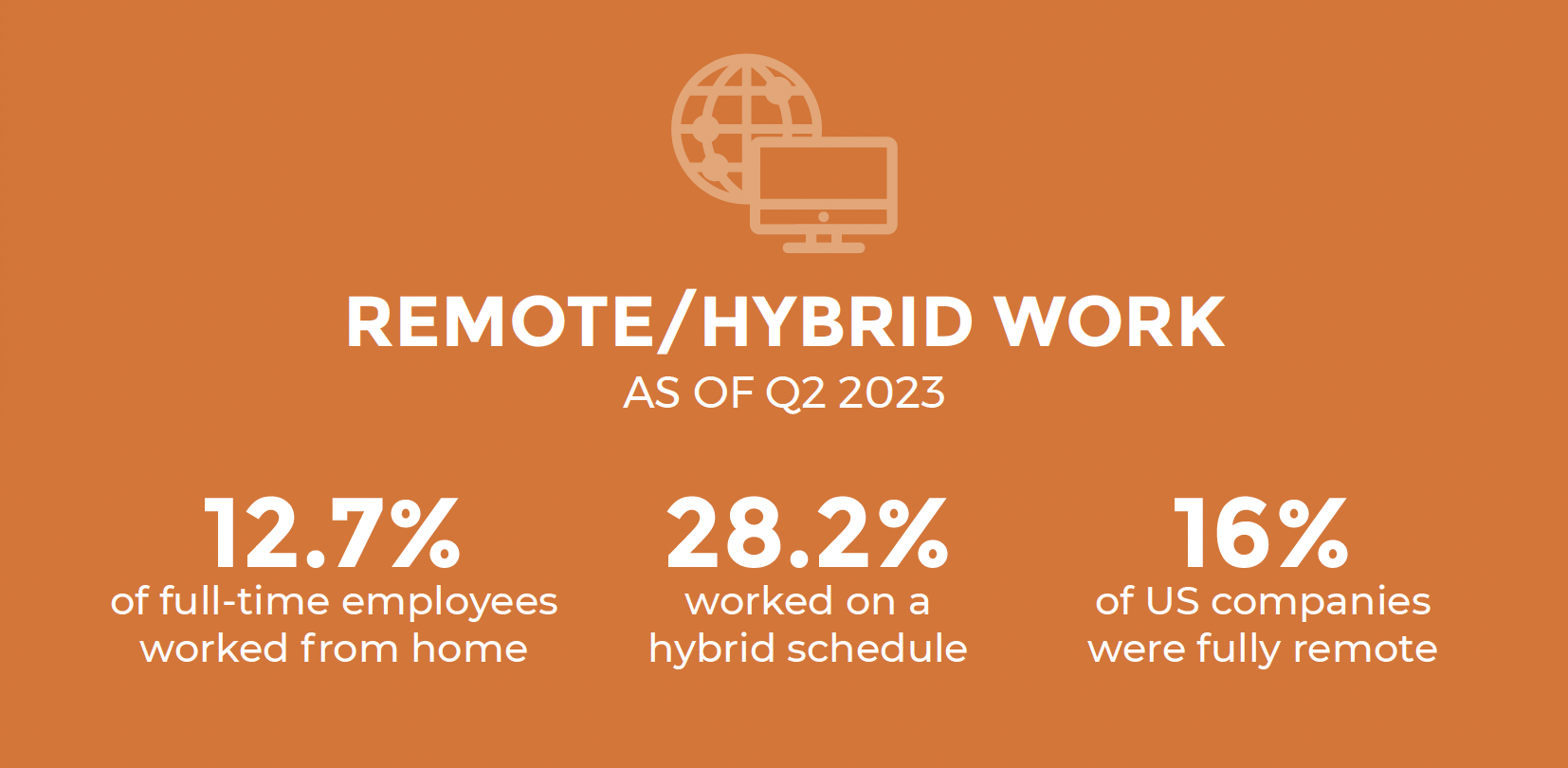 Another factor fueling the office to apartment trend is the continued popularity of city living. Before the onset of the pandemic, urban multifamily was one of commercial real estate's hottest segments, as Gen Z, millennials and baby boomers all embraced the live-work-play ethos, flocking to apartments in cities to be near work, shopping, dining and entertainment, cultural institutions and everything else big and mid-sized cities have to offer.
The pandemic briefly reversed that trend, causing many renters to leave bigger cities for less densely populated and less expensive areas, especially secondary and tertiary markets. But, with the pandemic seemingly subsiding and the lifting of pandemic-induced lockdowns and restrictions across the US, the appeal of city living has returned and with it an increase in demand for apartments in urban areas.
---
Up Next: Factory and Hotel Conversions
That wraps up our look at office to multifamily conversions. Next, we'll take an in-depth look at factory and hotel conversions, the second and third most popular types of multifamily conversions over the past decade.
---
About The Author
Terry Banike is Realogic's Vice President of Marketing. Over the course of his career, he has worked in marketing, communications, journalism and public relations, and has written numerous news stories and feature articles for newspapers, trade publications, newsletters and blogs. A rabid reader of anything and everything on commercial real estate, Terry closely follows commercial real estate news and trends and frequently posts about real estate on the Realogic Blog. He can be reached at tbanike@realogicinc.com.
18-Wall Street Journal; Underused Office Buildings Get New Life as Deluxe Apartments; January 4, 2022
19-Retrofit; Former Office Building Is Re-Interpreted As A Mixed-Use Residential High Rise; April 1, 2022
20-GlobeSt.; Supply Meets Demand: Converting Office Space To Multi-Family; July 30, 2019
22-New York Times; What Will Happen To All The Empty Office Buildings and Hotels?; April 16, 2021
23,24,25,26-National Association of Realtors; Analysis and Case Studies on Office-to-Housing Conversions; November 2021
27-CNBC; A Record Number of Old Office Buildings Were Turned Into Apartments This Year; November 24, 2021