The Pandemic's Impact on Commercial Real Estate
While it appears that the worst of the Covid-19 pandemic is behind us, the pandemic has had a profound but uneven impact on commercial real estate, an impact that is likely to reverberate through all sectors for years to come.
The Pandemic's Impact On Commercial Real Estate's Industrial Sector
The pandemic gave a boost to the already surging industrial sector by accelerating the shift from in-person shopping to ecommerce, which in turn increased demand for and returns on warehouses and logistics centers, a trend that continues today.
The Pandemic's Impact On Commercial Real Estate's Hotel Sector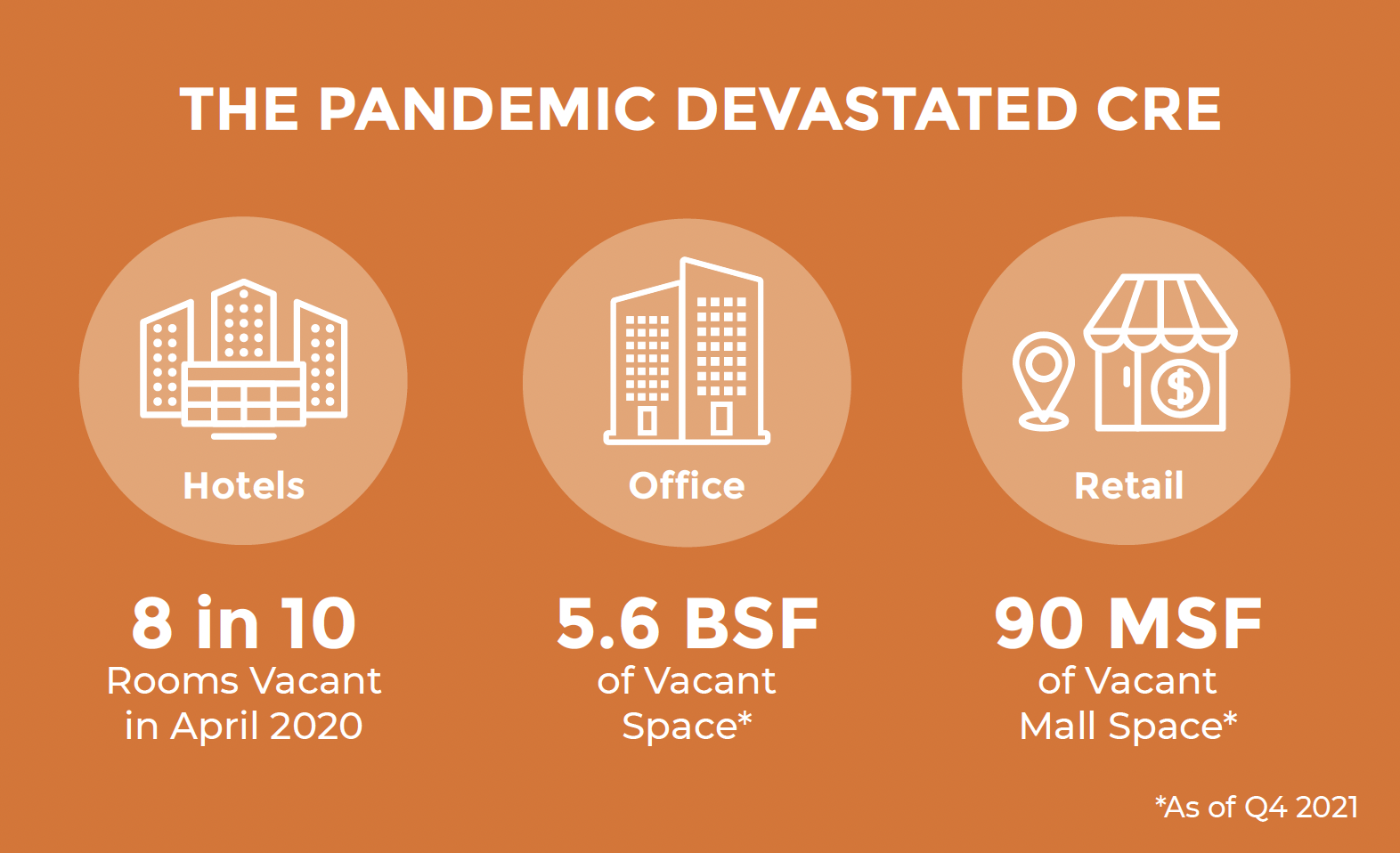 Hotels, on the other hand, were absolutely clobbered, with 8 in 10 hotel rooms vacant in April 2020.1 
According to CBRE, in 2022, US hotel occupancy climbed back to 95% of 2019's levels. By 2025 the sector's recovery should be complete, with hotel occupancy back to 100% of 2019 levels.
The Pandemic's Impact On Commercial Real Estate's Office Sector
Likewise, the pandemic jolted the office market as corporate layoffs, the shift to remote and hybrid work and office closures caused office vacancies to soar, especially in Class B and C buildings. According to Cushman & Wakefield, over 5.6 billion square feet of vacant office space was available as of Q4 20212.
By Q1 2023, the average US office vacancy rate had climbed to 18.8%, up nearly 6% from Q4 2019, the last full quarter before the pandemic. Cushman & Wakefield estimates that by 2030, an astounding 330 million square feet of office space could become obsolete.
The Pandemic's Impact On Commercial Real Estate's Retail Sector
Shopping malls, which were already struggling due to the ongoing shift to online sales and changing consumer shopping habits, were also hit hard by Covid-19. Bloomberg reports that at the end of 2021, there was over 90 million square feet of vacant space in US shopping malls3. As if to punctuate shopping mall's troubles, Unibail-Rodamco-Westfield, parent company of leading US mall operator Westfield, announced in April 2020 plans to exit the US market by 2023.
However, after peaking at 7.3% in Q1 2021, the vacancy rate for shopping centers has actually been on the decline. In Q1 2022, it stood at 6.2% and by Q1 2023 had dropped even further to 5.6%, its lowest point since the onset of the pandemic. The main reason for the decline has been the continuing if uneven recovery of the US economy since the height of the pandemic.
Multifamily Demand Surges, Then Slows
Meanwhile, demand for multifamily apartments of all classes continued growing unabatedly throughout the pandemic, driven by numerous social and economic factors, including the ongoing US housing shortage, labor and supply chain shortages and changing demographics and lifestyle preferences. CBRE reported that in 2021, net absorption for the US multifamily sector was +617,500 units, up 238% from 2020 and 97% from 2019.4
Then, demand for apartments dropped suddenly in 2022. The multifamily vacancy rate jumped 90 bps between Q1 and Q2 2022, then by another 70 bps in Q4.
In Q1 2023, the multifamily vacancy rate rose again, but by only 30 bps from the previous quarter. The slowing was an indication that supply and demand in the sector are stabilizing.
Adaptive Reuse on the Rise
With many office buildings, hotels and malls struggling while demand for and profits from multifamily properties surge, enterprising real estate developers, investors and lenders are increasingly turning to adaptive reuse and converting obsolete properties into new apartments to breathe new life into these old buildings and generate new revenue and profits from them.
As the number of multifamily conversions continues to grow and high-profile apartment conversions are increasingly in the financial, real estate and even mainstream news, we decided to take a closer look at multifamily conversions, their long and storied history and the economic and social dynamics currently accelerating the multifamily conversions trend.
US Housing Shortage
One of the main factors driving the increase in multifamily conversions across all real estate sectors is the on-going housing shortage in the US, especially the lack of affordable housing, which has increased demand for all classes of apartments.
According to a report from the National Association of Realtors (NAR), from 2010 through 2020, demand for single and multifamily housing exceeded supply by 6.3 million units5. The Federal Reserve estimated that in 2020 and 2021, at the height of the pandemic, the surge in demand for housing was so great that supply would have needed to increase by a staggering 300% to match it.
Compounding matters, the median home price in the US has increased by 30% over the last decade6, due in part to lack of inventory and labor and supply chain shortages triggered by the pandemic, putting a new home purchase out of reach for many.

Rising Rents and Home Prices
As a result, housing prices and rents have continued to rise, making rental housing increasingly unaffordable for lower-income households. According to NAR, in 2020, 22.7% of multifamily units rented for $2,000 a month or more, compared to just 12.3% in 20177—nearly double in just three years.
In 2022, Redfin reported that nationally, US apartment rents increased 15% from 2021 and the median rent for an apartment rose above $2,000 a month for the very first time.
As of August 2023, the median rent in the US for all bedroom and property types was $2,100 a month, $99 lower year over year but still higher than in H1 2022.
The Impact of Inflation on Multifamily Housing
After peaking at 9.1% in June 2022, inflation has dropped steadily and stood at 3.2% as of July 2023. However, the series of interest rate hikes by the Fed since March 2022 and uncertainty over whether it will raise rates again has kept interest and mortgage rates elevated, which in turn has maintained demand for apartments, making multifamily conversion a smart and potentially highly profitable bet for commercial real estate developers, investors and lenders.
The Plusses and Minuses of Multifamily Conversions
Before digging into the different types of multifamily conversions that are happening, let's take a quick look at the pros and cons of adaptive reuse.
The Plusses
On the plus side, conversions can be:
Faster than new, ground up construction. The developer is starting with an existing building and making modifications instead of starting with a vacant plot of land and constructing a new building from the ground up, which takes much longer, especially if there's already a building on the land that will need to be demolished.
Less expensive than new construction. Some experts estimate that adaptive reuse costs 30-40% less per unit than new construction9, a considerable cost savings. Because conversion is less expensive, developers and investors can reap bigger returns on their investments.
Better for the environment than new construction. With adaptive reuse, an existing building doesn't need to be demolished and the debris hauled off, both of which emit pollution and carbon into the air. Likewise, less concrete, one of the top sources of carbon emissions, needs to be created. Also, fewer construction materials, natural resources and energy are generally used in adaptive reuse projects.
Less impactful on a city's skyline and architectural profile than new construction, because an existing older building is being modified, not replaced with a new building with a different look and design.
Office to multifamily conversions create new housing near where people work, often in areas where it's scarce.
Hotel to multifamily conversions often create new affordable housing, which is badly needed in the US right now, especially in or near big cities.
Tax credits- including historic restoration and affordable housing credits- may be available to help finance the project and improve its return on investment.
In some buildings, leasing can be staggered as individual floors or sections are converted, generating revenue from the project more quickly than having to wait until the entire building is completed.
The Minuses
The potential downsides of adaptive reuse include:
Contamination of the site and the need for expensive remediation, especially in the case of old factories and warehouses.
Hidden problems in older buildings, including mold contamination, asbestos, lead paint and broken concrete, all of which drive up development costs and lengthen the timeframe for the conversion.
Financing for adaptive reuse projects can be more complicated and difficult than for new construction, especially if historic or affordable housing tax credits or public funding is involved.
The approval process for adaptive reuse projects can be lengthy and expensive, especially if rezoning is involved or the building has landmark status.
What to do with existing tenants whose leases overlap the developer's acquisition of the property.
A Case-by-Case Basis
Because the benefits and potential pitfalls vary greatly by real estate sector and individual property, potential conversions are always approached on a building-by-building basis, with project sponsors conducting an enormous amount of financial analysis, physical due diligence, legal and market research and careful planning before committing to a project.
The History of US Multifamily Conversions
Although multifamily conversions have been in the news frequently as of late, they're nothing new. In the 1960s, light industrial buildings in New York's Cast Iron Historic District—now the SoHo District- were converted into live-work lofts. Then, in the 1980s, a wave of office to residential conversions took root in New York, followed by waves in Chicago, Los Angeles and other big cities starting in the 1990s10.
Other types of properties have also been converted into apartments, including factories, warehouses, former military bases, government buildings and in one rare instance, an old minor league baseball stadium.
The Multifamily Conversion Trend Accelerates
To illustrate just how much the multifamily conversion trend has accelerated, in the 1950s, a total of 14 buildings were converted into 2,000 units. Between 2108 and 2022– a span of only five years– 57,113 new apartments were created through conversions.
From 2011 through 2022:
Office buildings accounted for the most apartment conversions– 44,209 units
Factories accounted for the second most multifamily conversions– 26,781 units
Hotels accounted for the third most conversions– 19,907
The Future of Multifamily Conversions
Looking ahead, in July 2023, a staggering 122,000 new conversions were underway, 45,000 of those from office buildings. As the office vacancy rate continues to rise– it was 18.6% as of Q1 2023– the number of struggling office buildings continues to grow and the social, work, demographic and economic factors driving multifamily conversions remain in place, the housing shortage in particular, the number of conversions is only expected to grow.
Up Next: Office to Apartment Conversions
That concludes Part 1 of our series on multifamily conversions. Next, an in-depth look at office to apartment conversions, which have emerged as the most popular type of multifamily conversions in recent years.
---
About The Author
Terry Banike is Realogic's Vice President of Marketing. Over the course of his career, he has worked in marketing, communications, journalism and public relations, and has written numerous news stories and feature articles for newspapers, trade publications, newsletters and blogs. A rabid reader of anything and everything on commercial real estate, Terry closely follows industry news and trends and frequently posts about real estate on the Realogic Blog. He can be reached at tbanike@realogicinc.com.
1,5,35,36,37,38-National Association of Realtors; Case Studies on Repurposing Hotels/Motels into Multifamily Housing; 2021
2-Cushman & Wakefield; At A Glance: Office Sublease Space; North America | Q4 2021; February 2022
3-Bloomberg; Malls Ditch Shopping to Fill Wasteland of Vacant Retail Stores; December 9, 2021
4-Multifamily Executive; Multifamily Sees Record Demand in 2021; February 1, 2022
6,7-CNBC; Home prices are now rising much faster than incomes, studies show; November 10, 2021
8-Trading Economics; United States Inflation Rate
9,11,13,15,16,17,32,33,34-RentCafe; Record Apartment Conversions Make 2021 Most Successful Year in Adaptive Reuse; October 6, 2021
10,21-Metropolis; Could Your Empty Office Turn Into Apartments?; April 20, 2021
12-Chicago Agent Magazine; Chicago Is A Top City for Commercial-to-Apartment Conversions; October 5, 2020
14-Rental Housing Journal; Former Factories, Office Buildings Becoming Apartment Conversions; October 6, 2020