The Realogic Abstracting and Lease Administration department is staffed with lawyers, registered real estate agents and award-winning property managers. You can have confidence that this all-star team is armed with decades of lease reading, summarizing and updating experience.
---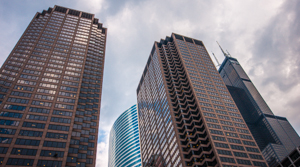 Realogic has abstracted leases for some of the largest real estate transactions in history since first offering lease abstraction services for due diligence over 15 years ago. Whether abstracts are required for a single building or an entire portfolio, Realogic's lease abstraction process can be scaled to meet your needs.
Abstraction Using Client Solution
The Realogic team has the expertise to abstract leases into virtually any desired format, including direct input into accounting software or Microsoft Excel®/Word®.
Abstraction Using
Realogic's preferred software for due diligence lease abstraction is Realogic Abstract.
Developed by Realogic, this web-based software provides highly customizable abstracts and numerous other reports to facilitate due diligence decision-making in a real-time, interactive environment.
Upon closing, building and lease data from Realogic Abstract can be exported to accounting software (MRI®, CTI®, JDE®, Yardi®, etc) for immediate tenant billing without the needless re-keying of data. Clients also have the option to continue using Realogic Abstract for post-closing lease administration.
---
Realogic has performed ongoing lease abstraction and administration services for owners, third party property managers and lenders for over 15 years. Whether you need abstracts prepared for a single building or a turnkey lease administration process across your entire portfolio, Realogic's lease abstracting and administration services can be scaled to meet your needs.
Using Realogic Abstract, the information needs of decision makers are merged with the latest advances in technology. The result is the total solution for the day-to-day management of lease administration data.
Realogic Abstract standardizes the lease abstraction process, ensuring accuracy, consistency and uniformity. In addition all data in Realogic Abstract can integrate with major accounting software, valuation/DCFsoftware and document management systems.
Our experienced Lease Administration team can also work within an existing solution. They have the background and expertise to abstract leases into virtually any desired format, including direct input into account software or Microsoft Excel®/Word®.
Monthly Lease Administration Reports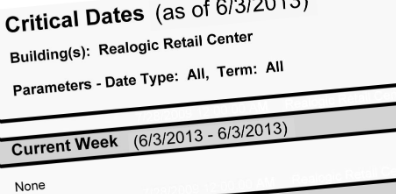 The Lease Administration team at Realogic provides a series of standardized reports including rent rolls, options and encumbrances, occupancy details as well as up to date lease abstracts for every tenant.
Automated Critical Date Emails
Realogic Abstract can also delivers a critical dates report via email to a customized list of client recipients. The critical dates report summarizes in chronological order all impending lease events including lease expirations, expansion and contraction options, rights of first offer and rights of first refusal, extension options and much more.
---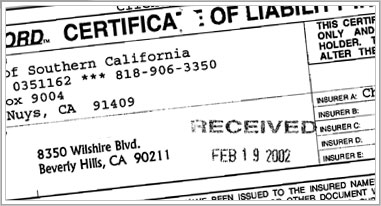 In many situations, abstracting mortgage documents or partnership agreements are a vital part of asset management workflow.
Realogic is experienced in the abstraction of financial documents. Creating customized abstracts to reflect the specific nature of these non-lease documents is one of the core features of Realogic Abstract.
---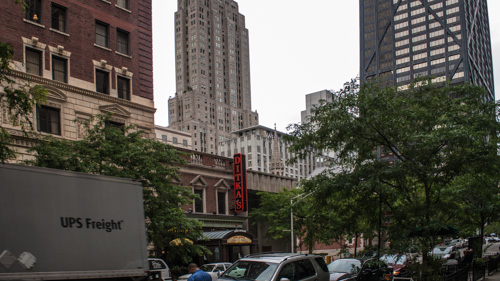 Need to push your abstract data into your accounting system? Realogic can do it.
In conjunction with the software development team, Realogic has developed a series of best practices that allow the transfer and ongoing synchronization of data between your lease abstract software, your accounting system, your DCF program and others.